Quality

WordPress Themes
Create stylish new websites with ease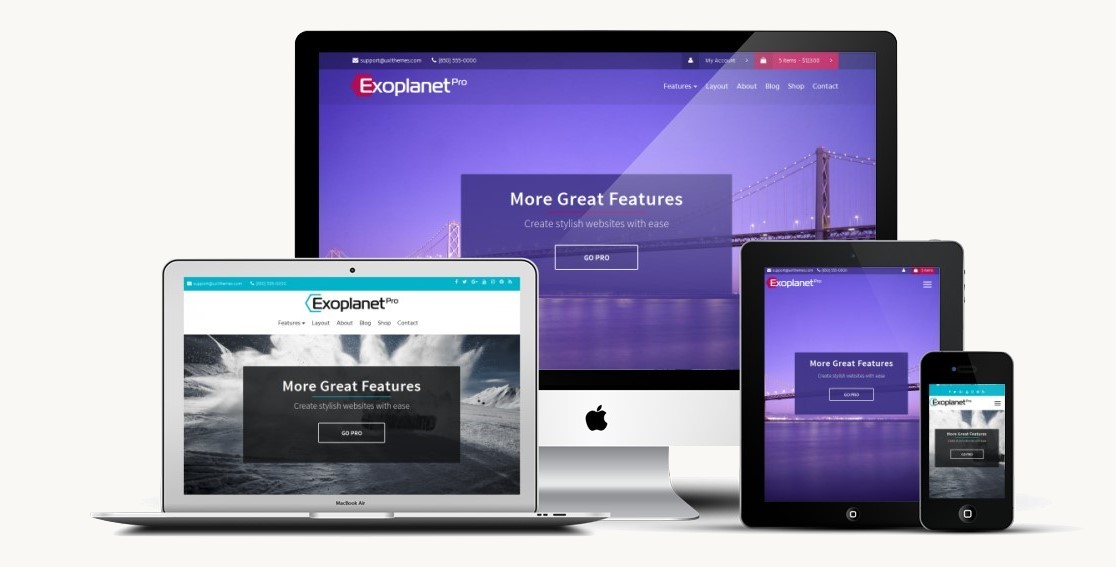 Responsive WordPress Themes
Fast loading, clutter free
When you choose a UXL Theme you can be sure that your WordPress website will fly! We design all our themes to be very easy to set up, and you can customize all of our themes to give your website a stylish and individual look.
Frequently Asked Questions
What is a WordPress theme?
Essentially, a theme allows you to control the design of your WordPress powered website or blog, and the presentation of your content.
While the core WordPress installation controls the underlying structure of the website, the theme is used to display the content – articles, pages, images, menus etc. – of the website in a particular way or with a particular design.
Can I switch from one theme to another?
Yes. You can switch from your current theme to one of our themes (or vice versa) at any time.
To install a new theme, in your WordPress dashboard, go to Appearance > Themes and you can either use the search and filter functions to find a theme, or you can upload a theme which you may have already downloaded and saved on your computer as a .zip file.
To change themes, in the Themes area of your dashboard, you will see the themes which you currently have installed.
You can preview how your website will look by hovering over a theme's thumbnail image and clicking the Live Preview button.
To change to a different theme, click the Activate button and your chosen theme will be set as the active theme for your site.
Are your themes free?
We offer free themes which are completely free to use however you wish, as well as premium themes which can be purchased from our theme shop.
The main differences between our free and paid for themes is that our premium themes come with additional styling options and/or additional presentation functionality, as well as priority help and support.
Can I modify your themes?
Yes, you are free to modify any of our themes in any way you like. If you do want to modify a theme, we would recommend that you install a child theme in addition to the main parent theme.
What is a child theme?
A child theme allows you make changes to the theme without the parent theme's files being affected. If you were to modify or customize any of the files in the parent theme directly, when the the theme is updated, your modifications would be lost.
By using a child theme, you will not lose your child theme modifications when the parent theme is updated.
We have created ready-to-use starter child themes to download for free.
What is the difference between a theme and a plugin?
A plugin is typically used to extend the functionality of the core WordPress installation.
Plugins generally don't control the presentation and design of your site or it's content, although they can sometimes include functionality which would help with styling/design.
A theme does not (or should not) extend WordPress functionality, although there are instances of overlap where some themes may have extra functionality. Be careful of using themes which include a lot of plugin functions as some (or in extreme cases, all) of your content may not be visible on your site if you decide to change themes.
Examples of extended plugin functionality include e-commerce, forums, analytics, caching, contact forms, extra content creation options, SEO, security and much more.
Get your new website
up and running quickly with our quality WordPress themes