Appearance > Customize > Shop Options
Icons
The store related shopping cart, wishlist and user account icons can be changed by selecting your preferred icon from the dropdown selector.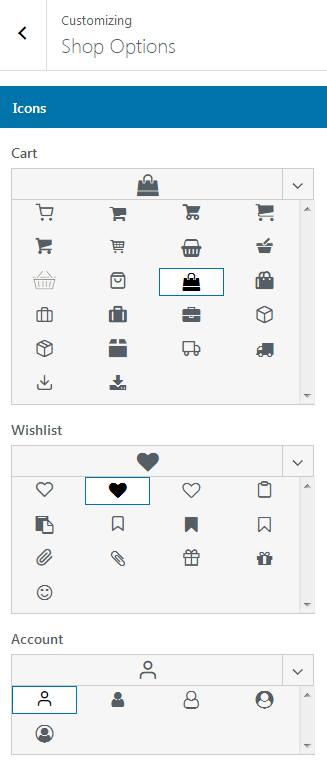 Product Archives
Product archives refers to the WooCommerce 'Shop' page, product category pages and product search pages.
To remove the shop breadcrumbs, check the box for the 'Remove WooCommerce Breadcrumbs' option.
To remove the WooCommerce product sorting/ordering, check the box for the 'Remove Product Sorting' option.
Grid/List View
The product grid/list view functionality can be enabled by checking the box for the 'Enable Grid/List View' option. There is also an option to 'Enable Grid/List Cookie' which, when activated, will place a small session cookie on your visitors device to remember their choice of product grid or list view as they browse your store.
Product Filters
The text of 'Product Filters' label/title can be changed, and the show/hide toggle feature of the product filter widgets can be changed so that the hide/show click is active on each widget instead of all widgets at once.
Products on a New Line
When you have both sub-categories and products set to display, the standard WooCommerce behavior is to show the products starting immediately after the categories and on the same line. This may not be desirable for every store, so the Retail Pro theme has the option to always show the products starting on the next line (row) after the last category.
Check the box for the 'Enable Products On New Line' option to enable this setting.
Product Details Style
The product details style has two options that can be selected here. As well as applying to product archives, this setting also changes the product details styling on the homepage product sections, and in other places such as Related Products and Upsell Products on the single product page.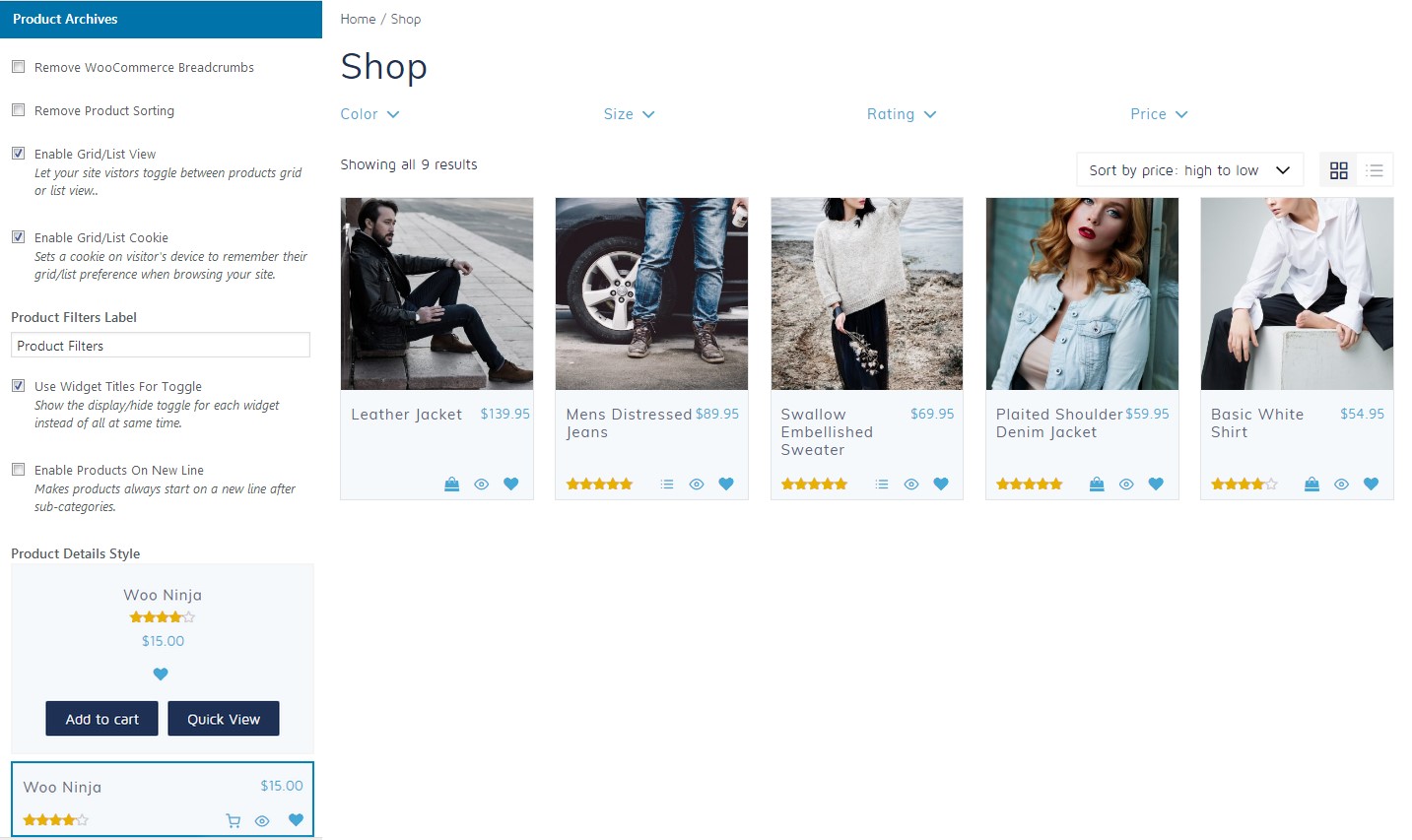 Single Product Pages
By default, the Shop Sidebar is not displayed on single product pages. To enable this, check the box for the 'Show Shop Sidebar' option.
The sticky product add-to-cart panel which appears on single products when you scroll down past the standard add-to-cart button, can be removed by checking the box for the 'Disable Sticky Add-to-cart Panel' option.
Product Variation Threshold
When you have a product with a lot of variations (combinations of color/size etc.), the standard WooCommerce setting is that the variations selection will only make a maximum of 30 variations available for instant price/availability updating on the product page. Usually with more than 30 variations, the whole of the variation selector area will need to be refreshed after every selection.
This maximum of 30 product variations can be adjusted here, by selecting any number from 1 to 1000, to allow instant updating up to that number of variations.
Sale Banner
There are 5 different styles of product sale banners to choose from, which are displayed when a product's standard price is reduced.