Appearance > Widgets
or
Appearance > Customize > Widgets
Retail Pro comes with 3 widgets that are optimized for use in specific areas, although they can be used in any widget area.
There are also 2 extra widget areas, 'Homepage Categorized Products Section' and 'Footer Site Info'.

Categorized Products Widget
Similar to the homepage sections in the customizer, this widget comes with the same title, description, number of products, products per row, layout and image only options.
The difference is that products are displayed by category and the category is selected in the 'Category' dropdown selector.
You can add as many Categorized Products widgets as you like any re-order them by drag-aand-drop into your preferred order.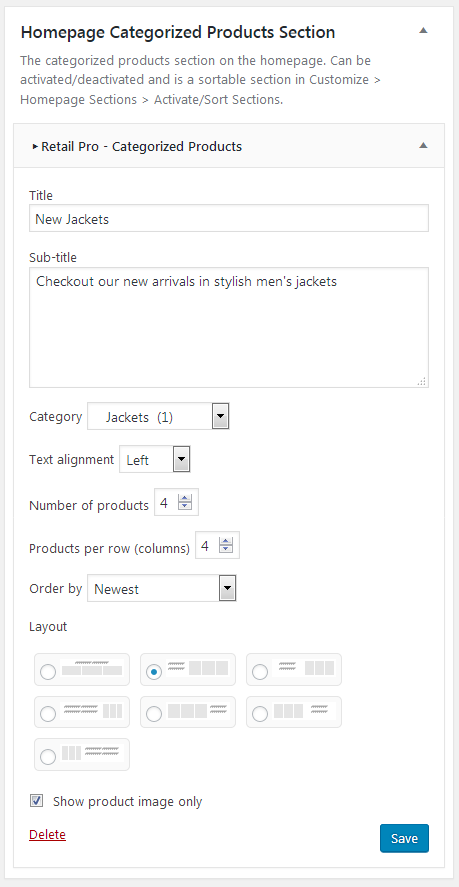 Hero/Slider Widget
Similar to the standard image widget used in the free version of the Retail theme, this widget has extra options to change the layout/positioning of the title/description and the option to add a button.
Add one 'Hero/Slider Widget' to the 'Homepage Slider/Hero Section' to display a large hero image with optional text and button.
Add additional 'Hero/Slider Widgets' to create a slider, and drag-and-drop the widgets to reorder the slides.
Please note that this widget will only display as a slider when used in the 'Homepage Slider/Hero Section'. The widget can be used in any widget area but multiple image will display as standard images not in a slider format.

USP with Icon Widget
Use this widget to write a USP (Unique Selling Point) or any text you want with an icon or image displayed alongside.
There are hundred of icons to choose from by clicking the 'Add Icon' button to bring up a list of available icons.
Alternatively, you can add your own image in place of the icon by clicking the 'Add Image' button.